Our services are focused on but not limited to the oil and gas industry, power and energy, steel, construction, and railway projects. Movements for these industries are becoming more challenging than ever. Geographical and environmental factors as well as intricate requirements are always pushing us towards safer, smarter and more creative solutions.
Our skills in transporting heavy and over-dimensional cargoes are put to real test in every project and job we partake. Be it urban roads, rural terrains, highways and byways or tight confines of plant sites, fabrication yards and factories, our capability has proven to exceed clients' and the overall market's expectations.
We use the latest technology and own the largest fleet of Goldhofer hydraulic multiaxle modular trailer in Malaysia. Consistent expansion and upgrading of our equipment enables us to meet industrial requirements despite the ever-changing demands in size and weight, safety aspects, practices of just-in-time policy, increased number of parties involved and integration of multiple services.
With the ISO 9001:2015 accreditation and adoption of more stringent safety rules, we hope to contribute public awareness through the use of hydraulic multi-axle modular trailers which reduces road damages and helps enhance safety for all road users. It is our goal to consistently evolve our modus-operandi to contribute positively as a responsible member to the community.
Apart from oversized transport, there is also great demand for lifting and installation works in various industrial and engineering projects in Malaysia.
The distinct advantages of having Megalift coordinating both transport and lifting aspects are the ability to communicate with better control and offer competitive pricing. It is certainly possible given our technical and engineering capability, experienced operation teams and the involvement of expatriate consultants if required.
Throughout the past 30 years, we have undertaken numerous positioning tasks, be it high foundations, deep, onto high-rise buildings or even the basements. Among the structures we worked with include turbines, transformers, generators, boilers, condensers and engines.
Lifting and installation works usually require a combination of sophisticated equipment including some rare or highly specialized instruments. In the case that we do not own them, cross-hire and collaboration with a reliable network will take place. However, we assume sole control of performance and responsibility to avoid unnecessary hassle to the client.
Equipment: mobile cranes, gantry, crawler cranes, ringer cranes, forklifts, sky lifts, winches, jacks, skate rollers and strand jacks with the use of support materials such as steel plates, U-channels, beams, decks, concrete blocks and scaffoldings.
Barging is an integral part of heavy transport especially when over-dimensioned cargoes cannot be transported cross-country. Oftentimes, barge is needed due to restrictions of weight, length, width, and height. Under capacity bridges, narrow roads, tight 5-junctions, unmovable obstructions, flyovers, telephone wires are some constraints that road transportation may not be possible.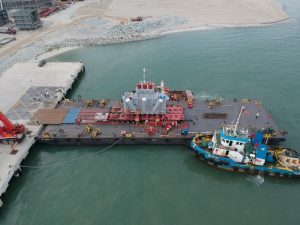 RORO (roll-on-roll-off) is the method to move cargoes seated on trailer from land to sea or vice versa. This is usually performed using a ramp at beachheads, jetties or wharves.
Barging and RORO not only require the main facilities of barging, tugs, ramps, ballasting pumps, generators, sounding devices, lashing wires, turnbuckles, welding sets and oxi-cutters, etc. but also the precise knowledge of hydro dynamics, tidal condition, towing technique, navigation route, pilot regulation and port condition. In addition, a superb human resources team such as master mariners, marine engineers, welders and riggers are required. In this respect, Megalift takes pride in having all these ingredients for smooth execution.
Barging is also used when ocean vessels are not equipped with heavy duty derrick or when job sites and inaccessible by ocean vessel or road.
We handle both domestic and regional barging, to and from overseas including countries like Hong Kong, Philippines, Indonesia, Myanmar, Singapore and Thailand. Having done not less than 150 barge operations, Megalift is undoubtedly the leading specialist in barging and RORO.
Our expertise encompasses selecting the right barge sizes, deck strength, appropriate tugging horsepower and balland pull as well as inspection before usage and deck strength reinforcement if required.
Jacking and skidding is one of the lifting mechanisms widely used for moving large structures. With more than 30 years of experience, these operations are highly successful with skilled technical and operation teams.
As always, in the course of producing bespoke solutions to our clients, safety remains the utmost factor in consideration.
With the coverage of major seaports in Malaysia and working with an expansive network of agents, we are capable of managing any form of ocean transportation. Our scope of handling includes FCL, LCL, breakbulk, geared heavy lifting, RORO carrier and barge.
We are also experienced in arrange sea freight with special requirements be it to any ports in Malaysia or vice versa.
Thanks to our excellent network of overseas affiliates and airlines connection, our regular air freighting to/from major international gateways is highly efficient. Having domestic branches and our very own handling facilities give us a competitive advantage in providing comprehensive services.
General / Medium Heavy Transportation, Warehouse & Distribution
Comprehensive. Complete. Abundant. This is the apt description of Megalift's fleet which includes the best and latest in technology.
Besides the 15-axle Goldhofer multi-axle hydraulic trailer, we perform reliable inland transport with multitude of vehicles. Among our fleet are one, three, and 10-ton trucks, general trailers, pole trailers, low-bed trailers, container trailers, bonded trucks and rail wagons.
We have several warehouses and open yards around Malaysia to cater to our customer's storage needs with advanced warehouse management system for your inventory tracking.
Customs Clearance & Tax Consultancy
We work closely with customs, carriers, terminal operators and customers through our Electronic Data Interchange (EDI) systems. Our capability goes beyond customs brokerage as we also assist in application of tax exemption, duty refund/drawback, LMW and CJ5 as well as providing related advisory services.
Our intimate documentation knowledge in every aspect, coupled with close relationships with authorities largely contribute to enabling correct compliance and faster clearance. Having that sad, we are able to reduce red tapes, cutting through unnecessary bureaucracies and acting in the best of customer's financial interest.
Industrial / Project Cargo Packing & Crating
As value-added services for our customers, we design and build customized packing and crating. They may be wooden, steel or other materials in any sizes and shapes for both general and conventional cargoes.